Ramadhan 2019 / 1440h




A diary of salient facts and documents.



Communiqué
Sur la Date du Début du Ramadhan 2019
(Le texte de ce communiqué se trouve à http://www.siriusalgeria.net/ram19.htm#1)
L'Association Sirius d'Astronomie tient à travers ce communiqué à informer le public sur les données astronomiques relatives à la nouvelle Lune du mois du Chaoual 1440 qui détermine la fin du mois du jeûne et donc le jour de l'Aïd. Nous précisons emphatiquement que seul le Comité des Croissants Lunaires du Ministère des Affaires Religieuses est habilité à se prononcer sur la date effective de l'Aïd.
  Le Croissant la Nuit du 29 Chaabane/05 Mai et sa Visibilité
  La nuit du 29 du mois de Chaabane ou "Nuit du Doute" sera pour l'Algérie le dimanche 05 mai 2019, et la nouvelle lune (Conjonction astronomique) du mois de Ramadhan naîtra la veille à 23h45, heure d'Algérie. Malgré cela, son âge lors du coucher du Soleil le dimanche ne sera pas suffisant pour que le croissant lunaire soit visible à l'oeil nu de l'Algérie du Nord, mais seulement avec des instruments optiques. Ce croissant sera par contre visible à l'oeil nu dans le Sud profond de l'Algérie quoique difficilement. Vu que la majorité de l'Afrique et surtout la partie Ouest pourra le voir à l'oeil nu avec une facilité qui augmente autant que l'on se dirige vers l'Ouest, le croissant en Algérie devrait être déclaré comme vu ce jour là sans problème. Notons que le croissant lunaire sera invisible à l'oeil nu du Monde Arabe, sauf pour la Mauritanie et le Soudan, mais visible au télescope. Soleil.
 Le Lundi 06 Mai, premier jour probable du Ramadhan
 Si une observation du Sud de l'Algérie est validée, ou si nous tenons compte de l'observation des pays voisins au Sud de l'Algérie, ce qui est une pratique qui a été adoptée un certain nombre de fois dans le passé par le Comité des Croissants Lunaires, le lundi 06 mai devrait être déclaré premier jour du mois de Ramadhan.
Les pays arabes et asiatiques pour lesquels le 29 du Chaabane est le samedi 04 mai n'auront pas d'autre choix que de compléter le mois de Chaabane à 30 jours et donc de débuter le Ramadhan le lundi aussi. Pour les autres pays arabes pour lesquels le dimanche 05 mai coïncide avec le 29 de Chaabane (comme pour l'Algérie), et pour lesquels l'observation à l'oeil nu est de fait impossible, l'expérience quasi unanime des années précédentes est que ce croissant sera «vu», ou qu'ils s'aligneront sur la position des pays arabes du premier cas de figure et devraient donc débuter le mois de jeûne le lundi comme nous. Seul le Maroc qui se base sur une observation visuelle stricte devrait débuter le Ramadhan le mardi 07.
Bon Ramadhan à tous, et que Dieu accepte durant ce mois notre jeûne et nos actes méritoires.

Prof. Jamal MIMOUNI
Département de Physique, Univ. Mentouri
Président, Association Sirius d'Astronomie
Vice Président de l'Union Arabe d'Astronomie et des Sciences de l'Espace
Ramadhan 2019 Press Release in Arabic
بلاغ حول هلال رمضان 1440ه
 (يوجد هذا النص وتفاصيل أخرى على الصفحة  www.siriusalgeria.net/ram19.htm )
تود جمعية الشعرى لعلم الفلك إخبار الجمهور الكريم ببعض المعلومات الفلكية بشأن هلال شهر رمضان وما يمكن استنتاجه بشأن بداية شهر الصيام المبارك.
ولادة الهلال ليلة 29 شعبان وإمكانية رؤيته
إن اقتران هلال رمضان 1440هـ سوف يكون يوم السبت 04 ماي على الساعة 23:45 بالتوقيت المحلي، وبالتالي سنتحرى هلال رمضان يوم الأحد 5 ماي الموافق لـ 29 شعبان، إلا أن الهلال لم يعمر بشكل كافي ليتم رصده بالعين المجردة في ذلك اليوم في شمال الجزائر، ولكن رصده ممكن عن طريق التليسكوب. أما في أقصى جنوب الجزائر فهنالك إمكانية رؤيته بالعين المجردة كما هو الحال بالنسبة للدول الإفريقية الجنوبية مع تزايد سهولة رصده كلما اتجهنا غربا.
بداية رمضان ستكون من الأرجح يوم الإثنين 6 ماي
بناءا على هذه المعطيات، نتوقع إعلان رؤية الهلال يوم الأحد 5 ماي من طرف وزارة الشؤون الدينية بناءا على رؤية في جنوب البلاد أو باعتبار رؤية الهلال عند الدول الإفريقية الواقعة جنوبا، وبالتالي سيكون بداية رمضان يوم الإثنين 6 ماي.
أما الدول العربية والأسياوية التي سيوافق عندهم 29 شعبان يوم السبت 04 ماي، فبناءا على اسحالة رؤية الهلال بصفة مطلقة يوم السبت مساءا (غروب الشمس قبل ولادة القمر)، فعليهم إتمام شعبان 30 يوما، والشروع في الصيام يوم الإثنين 06 ماي على كل حال. تبقى حالة الدول العربية التي سيوافق 29 شعبان يوم الإثنين، فلأرجح أنهم سيتبعون الدول العربية الأخرى رغم أن رؤية الهلال بالعين المجردة عندهم مستحيلة في ذلك اليوم.
تؤكد جمعية الشعرى لعلم الفلك أن الجهة الوحيدة مخولة لإصدار فتوى بشأن بداية رمضان هي لجنة الأهلة التابعة لوزارة الشؤون الدينية.
تقبل الله صيامنا وقيامنا وصالح أعمالنا
Visibility Curves
The Global Visibility Maps for the Ramadhan

Crescent

1440h
The situation on May 04, 2019 (28th of Shaabane in Algeria, 29th of Chaabane in many Arab countries) using the Odeh criteria
The various other criteria give basically the same results.
Global Visibility Maps for the past and future years (moonsighting site)

(Display below using the software Accurate Time -M.Odeh- ICOP)
... and the Situation on May 05, 2019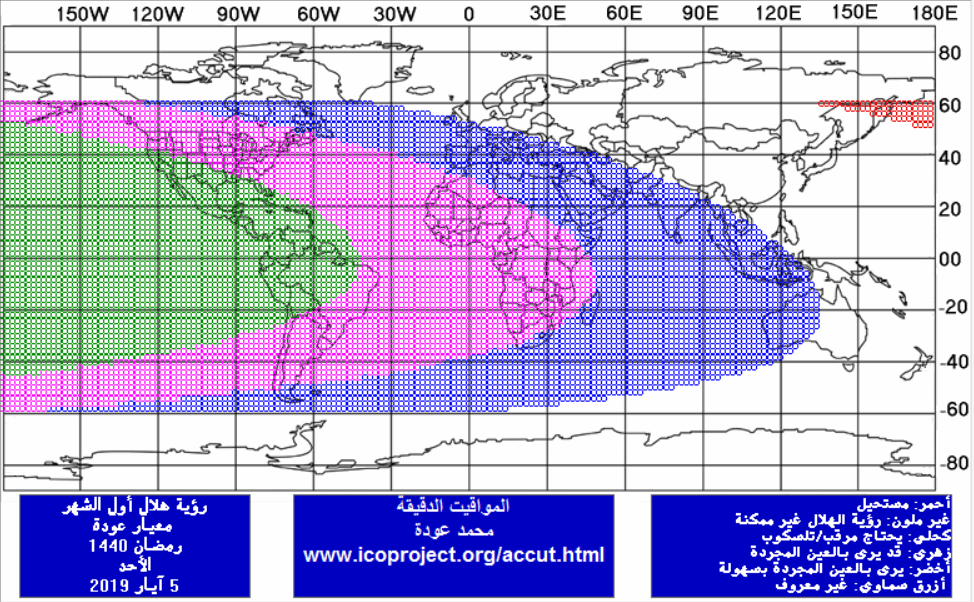 ... and on May 06, 2019

And from the MoonSighting site
(Shawkat criterion)
on May 04, 2019


on May 05, 2019


on May 05, 2019


Bonatiro Fait dans l'Aberration: Le Ramadan c'était au mois de Mars!
| | |
| --- | --- |
| Le Ramadan c'était en Mars! Circuler, il n'y a rien à voir.Voici l'annonce surprise du Maitre de la Mystification pour cette année 2019. | |
La Nouvelle Lune

Suhail Najmi
J'ai scruté le ciel cette nuit sans me lasser
La lune m'est apparue plus belle qu'à l'accoutumé
Voilà tant d'années que tu es ainsi célébré
Mois de Ramadan, te voilà enfin annoncé !

Mon âme s'éveille, elle qui était comme fleur fanée
Quel bonheur unique, que cette période sacrée
Le souvenir de Dieu, sait nous réconforter
Je puis vous l'assurer, il faut en profiter

Ton but n'est pas de nous garder affamés
Mais nous transformer, de l'intérieur nous changer
Nous élever, progresser dans la spiritualité
Se réconcilier, et en premier pardonner

Tu nous enjoins à visiter malades et oubliés
Honorer son prochain, faire Œuvre de charité
Faîtes donc fortune, donnez sans compter !
Telle fut la parole de notre Bien-aimé

Invoquez, priez, ce mois va vite s'écouler
Se cache en lui un trésor qu'il ne faut pour rien manquer
Une nuit qui vaut mille mois, il faut l'a cherché
Une aubaine unique pour tous ensemble le glorifier

Ce mois compte des jours qui vont s'égrener
Un à un au rythme des nuits, ne rien négliger
Même pas un sourire, ni acte pour la société
Éblouir son entourage, par son exemplarité
A Lovely Poem on the Lofty Ramadhan Crescent

By Bob Eklund, California, U.S.A
(With personal permission from the author)
Faintly gleams a new-born crescent to the seekers of the light ;
Who will see that early portent, on this pristine August night ?
Month by month, through countless ages, man has sought the Moon's rebirth ;
Month by month her cycle guides us, on an ever-changing Earth .
On each continent and island, watchers of the crescent blend ,
On a planet without borders, hope and vision without end .
"Sing the wide-winged Moon!" cried Homer, watching from his distant sky ;
"Soothingly thy smile," wrote Goethe, "spreadest round me, far and nigh ."
Watchers of the sky, all poets, may you wax and never wane ,
Young in heart as this new crescent, every month a steady gain ;
All you Watchers Without Borders, may your crescent shine tonight ;
May it touch with truth and beauty your long battle for the light .
 NOTE:
- The line from Homer is from his "Hymn to Selene," as translated by Percy Bysshe Shelley. 
- The line from Goethe is from his poem "To the Moon," translated by John S. Dwight .
A Du'a for this Blessed Month

Hafsa Bourkab
I wish you 1 month of Good Fortune
and 4 weeks filled with barakat and wealth,
30 days of forgiveness,
720 hours of guidance and health..
43200 minutes of purification and mounting joy,
and 2592000 seconds of Nour and many much more to enjoy!

May Allah shower us with His mercy
In a month that is not only holy but blessed
And grant us the utmost peace and prosperity
And abounding happiness in times we're so stressed...

I can't help but pray that:
Happiness be at your door
And may the light remain in your heart forevermore...
May it knock early
And may it stay very late
And may be leave all the gifts
Those you might call from fate,
Those, gifts of Allah
Peace, love, joy and good health,
May they be left behind
A Moon-faced Beloved

Jamaladdin Roumi
Ramadan, for observant Muslims, is a time of fasting, prayer and charitable giving. Here is a beautiful poem about Ramadan, by Rumi, a 13th-century Persian poet and mystic:
O moon-faced Beloved,
the month of Ramadan has arrived
Cover the table
and open the path of praise.
O fickle busybody,
it's time to change your ways.
Can you see the one who's selling the halvah
how long will it be the halvah you desire?
Just a glimpse of the halvah-maker
has made you so sweet even honey says,
"I'll put myself beneath your feet, like soil;
I'll worship at your shrine."
Your chick frets within the egg
with all your eating and choking.
Break out of your shell that your wings may grow.
Let yourself fly.
The lips of the Master are parched
from calling the Beloved.
The sound of your call resounds
through the horn of your empty belly.
Let nothing be inside of you.
Be empty: give your lips to the lips of the reed.
When like a reed you fill with His breath,
then you'll taste sweetness.
Sweetness is hidden in the Breath
that fills the reed.
– Rumi
From the site