1- On the Beginning

of the Month of Fasting for 2004 (1425h)
2- O
n the
Eid Date
Our communiqué was picked up by most of the major national newspapers in particular: Le Quotidien d'Oran, El Acil, l'Expression, El-Chourouq, El Watan, Essabah el-Jadid, l'Est Républicain, El-Ahdath, el-Bilad, el-Nasr...
The Official Statement on the Eid Date from ICOP

Possibility of Crescent Observation at Sunset on October 14, 2004
Using MoonCalc 6 of Monzur Ahmed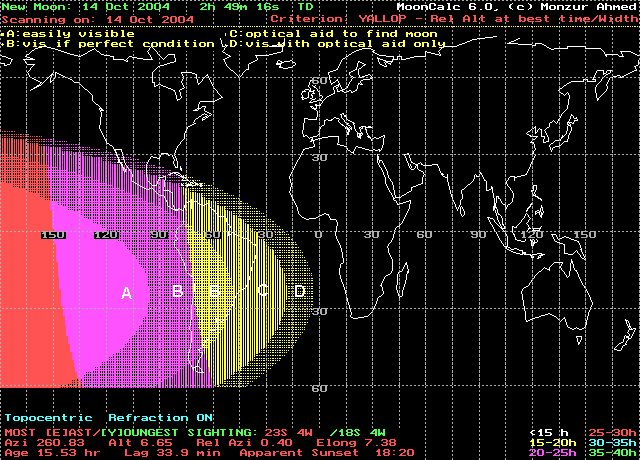 As we can check, the Moon crescent can't be seen even using optical aid all over the Islamic World on that day, except possibly in South America, and with much difficulty in Central America.
Notice however that countries whose "Leilat El-Chakk" (29th of Shaaban) is on Wednesday will have to start Ramadan on Friday October 16th, thus completing Shaaban, while Libya which uses their own criteria of beginning the month whenever the conjunction takes place before dawn (which is considered by them to be the starting of the new day), will start fasting on Thursday 14th 2004.
See also the Official Statement for the beginning of Ramadan (In Arabic) from the Arab Union for Astronomy and Space Sciences (AUASS)
As well as The First Day in Different Countries