Intl.Astronomy Week 1997

A three-day Astronomy exhibition at El-Khalifa Cultural Center in downtown Constantine
Many activities across th city. See below the whole gamut
A TV show "The Cosmic Journey"produced by the ENTV (Producteur H.Hazrouli), conceived and realized by Sirius
We participated for the second time in the International Astronomy Week (Previously Astronomy Day), a yearly celebration of the joy of astronomy, organized by the Astronomical League, the largest federation of astronomy clubs in the US...
And we got the Honorable Mention!
Our first international prize of a series of such prizes that Sirius collected throughout the years.
The Fair at El-Khalifa Cultural Center
8-10 April 1997
It was the first ever time that such a public program was taking place at Constantine. During three days large number of people were visiting the various stands from morning till evening

Mourad, a member of the Sirius Bureau interviewed on national TV for the evning news..

Innovating: The first computer competition in Astronomy.

The program, written by our Vice President, Fouad Boudjelal, a graduate student in Computer science, distinguished itself by being fully autonomous.and self grading. It has two levels (For the kids and for the older ones), each consisting of some 20 questions selectioned randomy from a pool of some 50 questions so that no two exams were the same. Many prizes were distributed to those with a good score.

The ENTV - Show
"The Cosmic Journey"
Spanning Four Continents

Produced by the ENTV (Producteur H.Hazrouli), conceived and realized by Sirius, It featured various high profile guests from abroad including the well known French planetologist André Brahic,of the Meudon Observatory in Paris. It included also Barry Beaman the President of the Astronomical League from Chicago, N.Guessoum from Koweit, K.Meziane from Canada. It included also in the studio two Algerian astrophysicts pone from Mentouri University N.Mebarki) and the other from Batna University (A.Bouldjedri), as well as a plateau of young amateurs from Sirius.
It was shown at prime time on Algerian TV and it is perhaps the first time an astronomy show was produced for the TV in Algeria since its independance.

The French planetologist, André Brahic as the star guest of the show
The Prize ...


The Honorable Mention Award
It was in order, the fifth ranked prize out of hundreds of participating clubs from all over the World.
Here's what Gary Tomlinson,
the Astronomy Day Coordinator
has to say to justify granting us the Award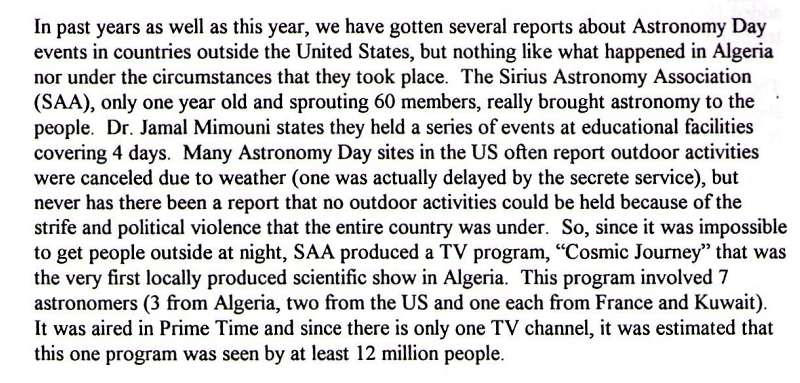 Retrospective on Astro Day 1996
before Sirius relinquishes its scout affiliation and become an independant Association

The program of activities
Furthermore, a press release explaining the goals and purposes of the celebration of Astronomy Day was sent to all the newspapers.
What is AstroDay
A Short Report of the Activities Carried out
during AstroDay 97